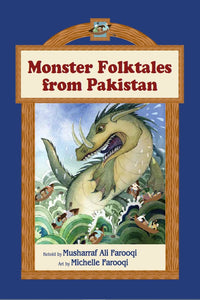 KITAB
Monster Folktales from Pakistan
Regular price
PKR 685
PKR 0
Unit price
per
About: A fire demon devastates a mountain community. A dev of Qaf imprisons a pari. A tribe of devs invade and destroy a kingdom. A cannibal giant from Gilgit terrorises his people. A sea monster threatens a fishing village.
These five folktales retold here by Musharraf Ali Farooqi capture the monster lore from Pakistan's different regions and the heroic men, women and children who defeated these monsters.
Beautifully illustrated by Michelle Farooqi, this collection showcases some of the fiercest monsters and most ingenious heroes from our folklore.
Title: Monster Folktales from Pakistan
Author: Musharraf Ali Farooqi
Illustrator: Michelle Farooqi
Publisher: KITAB (Private) Limited
Pages: 84
Format: Paperback
ISBN: 978-969-616-051-9
---